Summer travel season is almost here. To make your next flight from GSP a breeze, we suggest the following summer travel tips. 
Know before you go. Traveling is a little different these days, and we're here to help prepare for your next flight. Several states, cities, airlines, and airports across the country have adopted new rules and guidelines that may affect your next trip. GSP has compiled a list of useful resources to help you navigate the changes and to keep you informed of the latest updates. Be sure to review city, state, and national guidelines before departure.
Plan to park. Take advantage of GSP's new Pre-booking Parking program. Book and pay for parking in advance of your arrival. Scan your pre-book code when you arrive for a contact-free parking experience.
Arrive early for your flight
The Transportation Security Administration (TSA) recommends arriving two hours prior to your departure time to ensure adequate time to check-in with the airline, go through the security checkpoint and make your way to the gate. Keep in mind that many airlines close ticket counter check-in 45 minutes prior to departure so we always suggest you arrive early so you have plenty of time to catch your flight.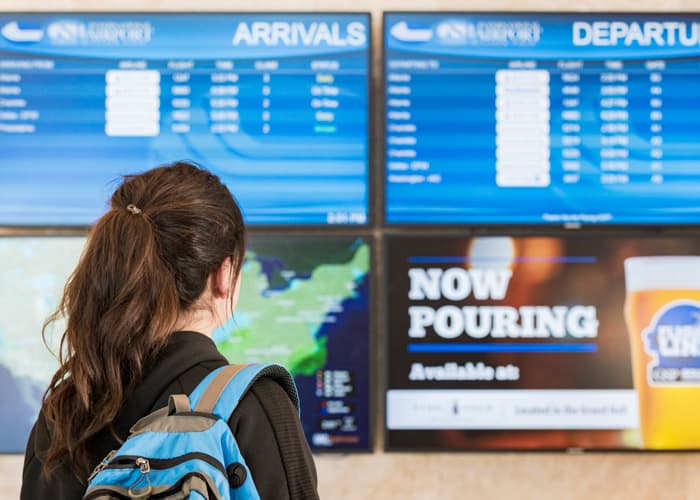 Follow the 3-1-1 rule when packing your carry-on bag. Don't pack any liquids (that includes sunscreen!) greater than 3.4 ounces.
Visit Transportation Security Administration (TSA) for detailed information on what to pack and what not to pack.
Be prepared. Have your identification ready and remember to remove electronic devices larger than a cell phone from your carry-on bag and place them into a bin for screening.

Enroll in TSA Pre
✓
®
and you can use expedited screening lanes at most major airports including GSP. TSA Pre
✓
®
members are not required to remove shoes, laptops, 3-1-1 liquids, belts or light jackets.

Click here

to enroll.


Remember your mask! Masks are required by law at all U.S. airports and during flight. If you need a mask, pick up a free mask at our information center or your airline's ticket counter. 
Grab a bite and relax before your flight.  Enjoy a world-class meal at The Kitchen by Wolfgang Puck, stock up on travel essentials or grab a quick bite and cup of coffee before your flight. GSP's airside garden is the perfect place to stretch your legs and take in some fresh air before boarding your flight.
Keep the family entertained. Pick up a free First Time Flyer Kit complete with aviation-themed toys to entertain kids of all ages. It is fun for kids and essential for parents. Log on to our free Wi-Fi to live stream the Cartoon Network on your phone or tablet. 
Share your vacation with us on Instagram @gspairport.